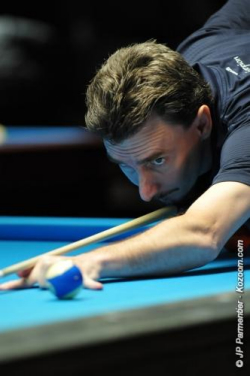 Johnny Archer
"Everything is in place now for the first Legends and Champions "Bad Blood" Challenge in association with Airart1" announced Mark (T-Wheels) Cantrill. The first 'Bad Blood Challenge will be between Johnny (The Scorpion) Archer and Earl (The Pearl) Strickland. The Challenge will be played over two days on April 2nd and 3rd and will start an 12.noon each day at Drifters Pool Room in Lincoln, Nebraska. The purse for this match is $10,000 winner takes all. The match will be refereed by one of the worlds best Referees/Tournament Directors, Bill Stock of Cuesports International.

The Legends and Champions "Bad Blood" Challenge will be available for purchase online at Tvmike.tv for $25.00 for both days of action. Locals and travelers will also be able to attend the event and tickets are available for purchase at Drifters Pool Room. Call 402-261-3617 or online at http://drifterspoolroom.com/ Ticket price is $25 for the two days and will also be available same day but seating is limited so buy yours early.

There are a few bonuses added to the event, Both players will be wearing wireless mics so we will be able to hear every word, another treat for the PPV audience is there will be two Hall of Famers in the commentary booth with Nick Varner and Buddy Hall giving their expert analysis and play by play of the entire match. Anyone who is signed up for the Pay Per View or who is in attendance will be entered into a drawing for some bonus prizes. Such as a Johnny Archer match worn and signed Mosconi Cup shirt. There will be a few other drawings for a Nick Varner Signature Series cue signed by Nick Varner himself. Other bonuses to the production will be Player interviews before and after the match and a pre game predictions interview with Nick Varner and Buddy Hall.

"I work with a number of top professional players, Johnny and Earl being among them, so I know from personal experience the issues that each of them have with each other and I have a feeling some of these issue are gonna come out at the event. I know they both have respect for the others abilities and accomplishments but unfortunately that is where the respect ends. Although there is $10k on the line the money is almost secondary to these two Hall of Famers they want to win" Said Cantrill.

"Earl has tortured me and most other players over the past 20 years with his antics, well I'm going to torture him for two days and give him a little back of what he gives everyone else" said Archer.

For more information please go to www.legendschampions.com also become a friend/like the Legends and Champions facebook page at http://www.facebook.com/pages/Legends-Champions-Pool-Tour/162211453791083?v=wall to be entered into more drawings and get up to the minute info on all Legends and Champions events.

The legends and Champions pool Tour and Airart1 would like to thanks all of the sponsors of this event for their support and for their support to the game of pool. A special mention goes out to AZBilliards for their constant support.

OB Cues
Teachmepool.com
Drifters
Airart1
CSI
Tacticalchalker.com
Poolwebsites.com
TvMike.tv
Elder Jewelry
Von Busch and Sons Refuse
Lincoln Heights Hotel
Madsen's Bowling and Billiards
World Wide pool Stream Promotions
Runout Media
NYCGrind.com

Bad Blood Rules and info

* Played on a Diamond Pro with 3 7/8 inch pockets.

* Race to 15 - 10-Ball
* Race to 15 - 8-Ball
Each rack won = 1 point in both games. Example Earl beats Johnny 15 to 10 in 8-Ball. Earl has 5 points.

* Straight pool race to 200.
Each 10 points = 1 point
Winner of the challenge will be determined by who has the most points accumulated over the three sets.

1) Break from the box, 8-Ball and 10-Ball.
2) Alt breaks.
3) Referee racks.
4) 30 Second shot clock - 40 second shot clock after the break. One 30 second time extension per rack per player.
5) Call Ball, call pocket unless obvious, call safety. (When a player calls a ball and does not pocket the ball in the pocket called, the opposing player has the option of shooting or making the other player continue to shoot)
6) No Jump cues.
7) all other rules are standard.

For more info please contact Mark Cantrill at cantrillmark@yahoo.com or by phone at 480-612-7732.