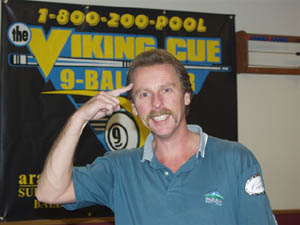 Earl 'The Pearl' Strickland
Earl Strickland has defeated Shawn Putnam 11-6 in the second set to win the Viking Cue Tour National Championship.
Strickland was undefeated until Sunday, when he lost 11-7 to Putnam for the hot-seat. Strickland bounced back with an 11-3 win over Marco Marquez on the one-loss side to earn the rematch with Putnam for the title.
It looked like Putnam would get the win in the first set of the finals when he made a ball on the break at 10-10 and had a relatively open table. His one-ball hung up in the side pocket though, and Strickland ran out the rack to force a second set in the finals.
The second set was close, but Strickland was able to win a couple safety exchanges and had more success with his break and won the match 11-6.
Strickland commented after the tournament, "It was really a fluke that the one-ball hung up on him like that. I played a little better in the second set. His break wasn't really working and that hurt him. He has such a strong break and you have to get by that to beat him. It is good to get a win right now to boost my confidence going into Mosconi Cup next month."
Strickland earned $5000 for the win, while Putnam settled for $3500. Marco Marquez and Chris Szuter filled out the top four positions.
Check out all the match results with our online brackets and see images from the event with Diana Hoppe's online photo gallery.
Photo courtesy of Diana Hoppe - Pool Pics by Hoppe
Complete Payouts:
1st Earl Strickland $5000
2nd Shawn Putnam $3500
3rd Marco Marquez $2500
4th Chris Szuter $2000
5th/6th Will Slone, Justin Daniels $1500
7th/8th Shannon Daulton, Marty Lawson $1000
9th/12th Danny Basavich, Gabe Owen, Robert Chaperon, Danny Medina $575
13th/16th Jose Parica, Fred Lane, Tony Mougey, Leil Gay $375
17th/24th Dan Anderson, Dee Adkins, Tony Watson, BJ Ussery, Ron Shepard, Shawn Miller, John Maki, Ronnie Martin $250
25th/32nd Mike Sardelli, Chris Bartrum, Ralph Carnes, Adam Smith, Tony Love, Larry Nevel, Ben Beckman, Chris Austin $150