Players & Fans,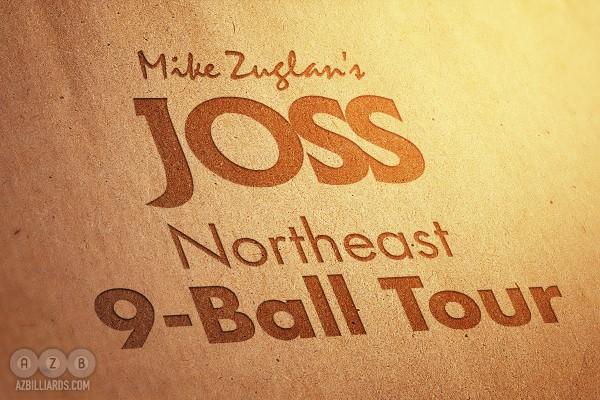 Congratulations to stop # 10 winner Jayson Shaw($1,550 – 12th N.E. Pool & Billiard Hall of Fame 9-Ball Open Champion), R.J. Carmona ($300 – second chance) & $1,900 Joss Cue raffle winner Frank Constantino.
Stop 11 of our 2021/2022 season will be at the Brick House Billiards in N. Syracuse NY on March 19 & 20 for the second of two events this season. Our hosts Mary & Brian Holmes have created one of the most beautiful rooms in the state while sparing no expense. Brick House comes complete with 7 of the Diamond Pro tables used at one of our Turning Stone events, a brand new heated billiard table and eight, 7 foot Diamond tables for the bar league crowd. There is also a brand new full bar and kitchen boasting a full pub menu with a few homemade specials thrown in to satisfy all of our needs. So lets give Brick House a warm Joss Tour welcome by coming out to play in or just watch another great 9-ball tournament. While you are there, you could even win a gorgeous, custom engraved, Joss Cue, valued at $1,900 in the raffle. Anyone can participate in the raffle and you do not have to be present to win!
For more info about Brick House, look them up on Facebook or call them at 315-455-1979.
For those of you needing motel info, please call Brick House directly at 315-455-1979
This event at Brick House Billiards will consist of a $1500 added Saturday and Sunday Main Event (entry Fee $120 for pro level or $70 for non pro level) and a $500 added second chance event on Sunday ($20 Entry Fee) for those non pro level players eliminated from the main event on Saturday. All of our events are open to players of all skill levels. Please remember that all of our billiard parlor events are now races 9 on the winners side and races to 7 on the one loss side.
Those coming to play must arrive on Saturday March 19, Before 11:00 AM in proper dress of No t-shirts, tanks, sweats or shorts!! Clean Jeans and sneakers and a shirt with a collar work just fine for our billiard parlor events. Complete tour info can be found on our site: www.joss9balltour.com
Please note that our $25,000 Added Turning Stone Classic XXXV 9-Ball Open on September 1-4, 2022 is ALREADY FULL pending my receipt of all of the "checks in the mail". Spots could open up if they do not arrive in a reasonable amount of time. Therefore, I have started a waiting list. If you would like to be on my waiting list, please call me at 518-356-7163
Please remember to spread the word to frequent your local billiard parlors and utilize and promote the world class products of our most generous sponsors. They are the backbone of our sport and deserve our support!!
Thanks and I hope to see you all at the brand new Brick House billiards.
The Joss Northeast 9-Ball Tour Is Proudly Sponsored By;