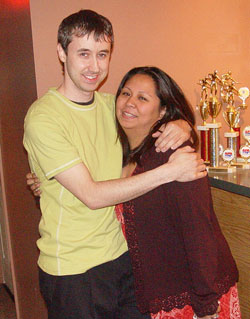 Teddy Garrahan and Minnie (Castle owner)
The Hampton Ridge 9 Ball tour made its way to Castle Billiards in East Rutherford NJ on May 22nd. Special thanks to Minnie and Scott for hosting the event.
Leading the way on the top half of the bracket was Teddy Garrahan with wins over Joe Wolf, Anna Del Rosario, Reggie Cutler, and Eddie Abraham. On the bottom half of the bracket it was Dennis Spears with wins over Joey Landi, Pat Mcnally, Robert Larbalesbrier and Joe Scott.
The stage was set to see who got the hot seat and it was Dennis Spears vs Teddy Garrahan. At the beginning of the match it went back and forth then Garahan took over and never looked back winning the match easily 7-4. This gave Garrahan the hot seat and sent Spears to the one loss side.
Making a run from the one loss side was Pat McNally with wins over Mario Sahatjian, William McGuire, Claude Marrier, Frankie Hernandez, Eddie Abraham and Matt Krah.
Pat McNally vs Dennis Spears to see who goes to the finals. McNally was in dead stroke and took control of the match from the start winning the match easily 7-4, Dennis Spears settled for 3rd place.
Now the finals was set and it was Teddy Garrahan vs Pat McNally. This was a great match, after giving away the first game, McNally won the next 5 making the score 5-1. Garrahan stuck in there and won the next 3 games making the score 5-4 McNally. McNally won only 2 more games before Garrahan went on a run. When it was all over, Garrahan won the match 9-7 giving him the Hampton Ridge 8th stop. Matt Krah with his 4th place finish took over the points lead.
1st Teddy Garrahan
2nd Pat McNally
3rd Dennis Spears
4th Matt Krah
5th-6th Eddie Abraham, Joe Scott
7th-8th Frankie Hernandez, William Marulanda