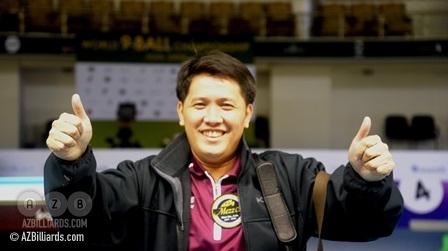 Antonia Gabica (Photo courtesy of WPA)
QATAR BASED FILIPINO Antonio GABICA STORMS INTO THE SEMI-FINALS, JOINS BIADO, HOHMANN AND BOYES IN THE FINAL FOUR OF THE WORLD 9-BALL CHAMPIONSHIP
(Doha, Qatar)--Over a 15-plus year professional career, Antonio Gabica has often been viewed by Filipino pool fans as an extremely talented player who has a tendency to wither when faced with big time pressure situations. But for the man affectionately known as "Gaga" to his fellow Filipinos, that once signature trait now sits forever buried deep in the Qatari desert.
Displaying masterful, career-defining cueing prowess, and the heart of a proud lion, Gabica notched three straight pressure cooker victories today, and barged into the semi-finals of the 2013 World 9-ball Championship. There he joins three other red hot players in the race to pool's pantheon, among them fellow Filipino
Carlo Biado
, Germany's
Thorsten Hohmann
, and Great Britain's
Karl Boyes
.
Each race to 11, alternate break semi-final will feature the Philippines versus Europe. In one semi-final, Gabica will face off against Boyes. In the other semi-final, Biado will do battle with Hohmann. Both semi-final matches will be played simultaneously at the Al Arabi Sports Indoor Stadium beginning at 1:30pm Doha time(GMT +3.) The race to 13, alternate break final will begin at 5pm.
If today's incredible action is any indication, the Al Arabi will be positively rocking on Friday. Having two Filipinos in the semi-finals ensures that a huge crowd of overseas Filipinos, whose population numbers close to 200,000 in Qatar, will surely pack the 1000 seat arena. On top of this, Filipino pool fans are notoriously boisterous when it comes to rooting for their man. Both Hohmann and Boyes will no doubt be up against a wave of fan emotion, and will have to bear down extra hard to stay composed.
For the 41 year old Gabica, there's an added home-court advantage in that he has lived and worked in Qatar for the last four years, working as an assistant coach for the Qatari national pool team. Gabica, although playing under the Philippine flag, wears the colors of Qatar and is beloved by the Qataris involved in the local pool scene, and treated as one of their own. Both Filipinos and Qataris in the crowd today were cheering wildly for Gabica and at one point were even chanting his nickname, "Gaga! Gaga!"
But it wasn't just Gabica that had the fans loving the action today at the Al Arabi. The day began at the Al Sadd Sports Club in Doha at 10am with 32 players remaining. By the time the Final 16 had finished up, there had already been enough nail biting drama to last for years, with two hill-hill matches, and every other match a pressure packed thriller that went deep. Three of the quarter finals didn't have quite the spark, but when Gabica's clinched a 11-10 page-turner against Netherland's
Nick Van Den Berg
, excited and exhausted fans knew they had been a part of a classic day in pool lore.
If one was going to pick a favourite to take the title, you couldn't go wrong selecting Germany's Hohmann. Hohmann is the only one of the four that has won a World 9-ball Championship, back in 2003 in Cardiff, Wales. And while history is not the only barometer for future success, Hohmann showed today that he has the firepower and determination to take down just about anyone that comes in front of him.
Germany's Thorsten HohmannThe German began the day in a match against defending champion and world number 1
Darren Appleton
. The two greats stayed fairly even until the halfway point, when Hohmann stepped on the gas, punishing Appleton for several glaring errors. Hohmann never looked back and won handily 11-8.
If playing and defeating the world number one wasn't enough, Hohmann then met up in the final 16 with world number two, the Philippines'
Dennis Orcollo
, who had just taken down Canada's
John Morra
. Like in his previous match, Hohmann stayed even through the halfway point. Orcollo then won three in a row to go up 8-5 and looked in total control. Orcollo, though, missed an easy full table 9-ball and left a hangar. Faster than you could say "turning point," Hohmann grabbed the momentum and won six straight racks to win 11-8, and move into the quarterfinals.
In the quarters Hohmann then found himself facing another Filipino,
Jeffrey De Luna
. With earlier victories over Indonesia's Mohammed Zulfikri and Hungary's come backing Vilmos Foldes, De Luna was clearly playing his best pool in years.
Hohmann, though, was too strong and too focused. The German raced out to an 8-1 lead and won the match 11-7. Afterward an exhausted but happy Hohmann said he was happy with his performance, and feels that this just might be his time again.
"I don't think I played my best," he said. "But I feel good. I feel confident. I beat some quality players here in the last few days. Bustamante, Darren, Dennnis, Jeff. To be able to win another world championship ten years after the first one, that would be very special. I feel my time has come again."
For Hohmman's semis opponent Carlo Biado, Thursday will be a day that he and his fans will recall as the moment he entered the upper echelons of professional pool. For a little more more than five years, the 28 year old Biado has been one of the Philippine top money game players. Over the course of the last few years, he has transformed himself into a top tier tournament player. For three months this year, Biado traveled around the United States with his friend Orcollo, and put in some marvellous performances in some smaller tournaments against many of the world's best players. It was the kind of battle hardening experience that would one day pay off.
The Philippines Carlo BiadoThursday was that day. In the round of 32, Biado faced the USA's top player,
Shane Van Boening
. Biado raced out to a 6-0 lead in the race to 11 match, then pushed the score line to 10-6. Tantalizingly close to a big win, Biado saw Van Boening claw back to tie the match at 10-10. But the American left an early opening in the final rack, and Biado held his nerve to escape to the final 16.
There Biado met up with veteran Italian player,
Fabio Petroni
, who had been playing his best pool in years. Biado led 5-2, but Petroni fought back to take a 6-5 advantage. Petroni looked like he would take the match as he moved the score line to 10-8. Biado, however, calmed himself down, and stormed back to take the next three pressure packed racks, and win another thriller, 11-10.
With two straight hill-hill matches behind him, Biado had to head straight to his quarterfinal match against Great Britain's
Chris Melling
. The Brit was earlier showing the white hot form that won him the China Open two years ago. He had earlier deposed the Philippines
Ramil Gallego
and Spain's
David Alcaide
.
Fans were expecting a cracker, but the match wasn't even close. Biado, seemingly free of the pressure of the last two battles, started freewheeling and played perfect. Melling simply had no answer and Biado showed his incredible skills and stamina and won easily, 11-3.
"I'm surprised at that match," Biado said afterward as friend Orcollo stood by his side. "There was no pressure. There was pressure with Shane and Petroni, but here I just felt very confident. I can't believe it. This is really amazing."
Great Britain's Karl BoyesThe low key Boyes played an all-around excellent three sets of pool today. The 30 year old from Manchester who made it to the semis of the World 9-ball Championship in Manila in 2007, has the sort of steady demeanor and rock solid game that could see him quietly walk off with the title on Friday evening.
Boyes first came out and disposed of Holland's
Huidji See
, 11-8. In the round of 16, Boyes was pushed to the limit by Tawain's very talented Lo Li Wen but prevailed with a break and run at the wire, 11-10.
In the quarterfinal, Boyes matched up against Greece's Nick Ekonomoupolus, who had earlier beaten the Philippines
Lee Vann Corteza
and whom a few observers were picking as a dark horse to go all the way. After grabbing an early 3-1 lead, Boyes fended off the Greek the rest of the way, and won 11-8.
Boyes' will have to maintain his low key style when he faces Gabica on Friday, as the Filipino fans will surely be squarely against him from the opening break. Throughout the day Thursday, Gabica seemed to thrive on the hometown support, playing to the crowd in pressure moments, almost in the way the Filipino legend
Efren Reyes
has done for years.
In the round of 32, Gabica outlasted Germany's
Oliver Ortmann
down the stretch, winning 11-8. Gabica then faced one of the tournament favorites in the round of 16, Taiwan's Ko Pin Yi. Ko is a monster for sure but Gabica stayed on his coat tails until he tied the score at 7, then grabbed his first lead at 8-7. From there Gabica owned the proceedings and won, 11-9.
In the quarters, Gabica faced Van den Berg, who had been playing his best pool in years. Earlier in the day, Van den Berg took down China's Wu Chia Ching, 11-10, closing the deal thanks to a highlight reel cut on the seven in the last rack that won him the match. In the round of 16 Van den Berg then put the squeeze on Taiwanese youngster Hsu Kai Lun, 11-7.
The match with Gabica was a nervy affair that, after a tortuously long day of championship pool, seemed to take everything out of both players. The two went back and forth the whole way, with neither player able to get more than two racks on the other. But once again Gabica came through in crunch time. The Filipino broke at 10-10. The two ended up in a pressure filled safety exchange and Gabica saw the first opening. Urged on by the crowd, the Filipino ran the colors to take an unlikely but very popular place in the semi finals.
"That was too much pressure there," a laughing Gabica said after the match. "I was very luck there not to scratch in the last rack. This is a big win for me, for the Philippines and for Qatar. I hope I can continue to win tomorrow."
Gabica will now have a golden chance on Friday to achieve the kind of pool glory that has eluded him through his long years in the sport. He will probably enter his semi-final match with Karl Boyes as an underdog. But with the massive hometown crowd behind him, Gabica must feel like anything is possible. Filipinos, and Qataris, are certainly hoping so.
The winner of the 2013 World 9-ball Championship receives $36,000. The runner up will pocket $18,000. The total prize fund is $250,000.
*The World Pool-Billiard Association(WPA) will be on hand in Doha throughout the week bringing you all the drama from the 2013 World 9-ball Championship. WPA Press Officer Ted Lerner will be reporting from the Al Arabi Sports Club with daily articles containing insight, interviews and analysis, as well as photos. Ted will also be manning the WPA Facebook page and Twitter feed and responding to fans queries and comments. Fans can also follow all matches via the WPA live scoring platform.
Follow the WPA on Twitter: @poolwpa