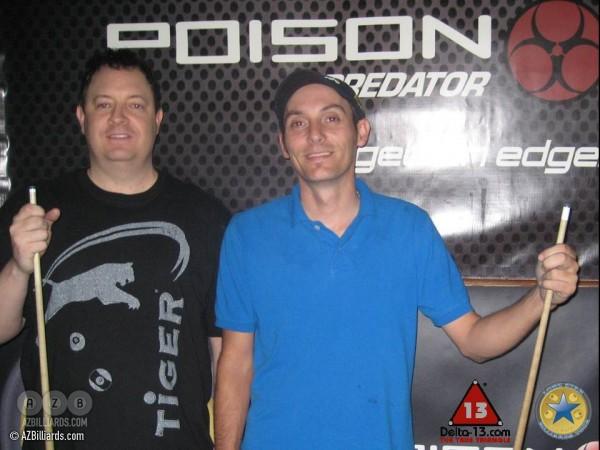 Brent Thomas and Eric Brown
On April 20th-21st, 2013, Houston player Brent Thomas fought his way through a treacherous field of 41 top contenders in order to capture his first Lone Star Open 9-Ball division title. In town for upcoming nuptials, Swiss pro Marco Tsudi, along with cohorts Patrick Werren, Oliver Heeb, and Jonny Stojanovic, amplified an already intense field. Thomas' impressive run yielded 6 consecutive wins with exceptional victories over Tschudi, 9-7, and Joey Torres, 9-6. Euro Tour player Patrick Werren made his play for the hot seat as well, with wins over Bob Guzik, 9-8, and Blaine Barcus, 9-8. After a 9-2 loss at the hands of Blaine Barcus, Killeen's Eric Brown tore through the one-loss side eliminating Brian Rosenbaum, 7-3, Victoria's Durango Duran, 7-6, Torres, 7-6, and Tsudi, 7-6. On the east side, Thomas and Werren teed off for the hot seat. A seasoned Thomas continued his steady stream of play which proved too much for the 19 year-old, Swiss phenom. Thomas secured the hot seat, 9-3, and Brown made quick work of Werren on the one-loss side, 7-1. Thomas found a more than formidable counterpart in Brown. As Thomas struggled with a few unforced errors, Brown' momentum increased, as he drove it home, 9-5. In the second set, Thomas found his footing and came out firing, taking an early 5-2 lead. Brown continued to lose contention, as his answers came all too late. A confident Thomas pulled out of sight to end the match, 7-4.
Danny Lee took the 56 player Amateur 9-Ball division by storm with wins over Eric Hsu, 7-4, Daniel Johnson, 7-3, and Raul Escobedo, 7-3. Eric Brown, the Open division runner-up, showed true resolve and stamina as he blazed a trail through Mark Fusina, 7-4, Lance Sullivan, 7-5, and finally Victor Rojas, 7-6, to reach Lee and his second hot seat match. In the wake of their destruction, it was Sullivan who emerged on the west side, winning 4 consecutive matches to face Victoria's Alex Cardenas who won an astounding 6 consecutive matches after a 3rd round loss to Joey Torres. Cardenas would make Sullivan his 6th and final victim by a score of 5-3. On the east side, Brown lost the hot seat to Lee and in turn, eliminated Cardenas. Brown played a spectacular first match, becoming the first person to defeat Lee in the event, 7-4. Lee came back to win the second set and his first Lone Star Amateur title.
Teresa Garland took home "Top Lady" in the Open division and split the same award with Angela Martinez in the Amateur division. Junior players Joey Bourgeois, Jr. from Pasadena, Texas and Joey Torres of Houston, Texas cashed in the top 12 and also split the "Top Junior" award.
Bogies Billiards & Sports Bar in Houston, Texas hosted another fine event, with 61 players in attendance and $1,000 added. Sponsors for this event included the Official Cue, Poison by Predator www.poisonbilliards.com, the Official Rack, Delta-13 Rack www.delta-13.com, and the APA Leagues of North Harris County. The next event will be at Houston's Sports Bar in Houston, Texas on May 4th-5th.