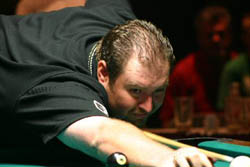 Shawn Putnam
Tiger Products and Shawn Putnam are offering a free one hour pool lesson to customers who purchase a Shawn Putnam Series Limited Edition Tiger Cue directly from Tiger Products (www.tigerproducts.com) between October 1st, 2008 and October 17th, 2008.

Qualifying retail purchaser's free lesson (student pays pool time) must take place at Q-Masters Billiards (www.q-masters.com) during the 33rd annual US Open 9-Ball Championships (as Shawn's schedule permits)in Chesapeake, VA - held between October 19th, 2008 and October 25th, 2008.

For more details contact Corey Harper at corey@tigerproducts.com or call 818-238-9906.

Established in Canoga Park, Ca 1988, Tiger Products is the leading US Manufacturer of specialty laminated billiards products and accessories. Tiger brand Laminated Cue Tips including; "Sniper", "Everest", "Tiger Jump/Break" and "Tiger" (Soft, Med & Hard) are known throughout the world as the very best. For more information on their fine products, visit their website at http://www.tigerproducts.com.