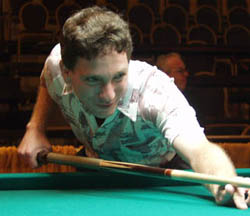 Tommy Kennedy
Tommy Kennedy won the South East Open 9-Ball Tour event at The Pool House in Doraville, GA this weekend for his second straight SE Open tour win.
Kennedy lost to Bruce Berrong 9-5 early on Sunday and Berrong then defeated Paul Song for the hot-seat.
Kennedy took the trip to the one-loss side, where he defeated John Brewer and then Paul Song to set up the rematch with Berrong in the finals.
The single elimination extended finals were tight, but Kennedy pulled out the 13-11 victory to score his second consecutive victory on the tour.
Kennedy collected $600 for the win, while Berrong settled for $450 for second place. Song and Brewer filled out the top four spots.
The SE Open 9-Ball Tour will be at Murphy's Brass Rail in Athens, GA next weekend for their next event.
Photo courtesy of Diana Hoppe - Pool Pics by Hoppe