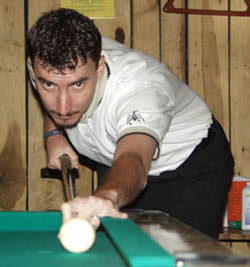 Johnny Archer
Johnny Archer went undefeated through a field of 37 players at the SE Open 9-Ball Tour stop at Murphy's Brass Rail in Athens, GA this weekend.
Archer defeated tour director Tommy Kennedy 9-4 for the hot seat and then watched as Bruce Berrong avenged his loss last week to Kennedy. Berrong had his break working and was able to string together racks and defeated Kennedy 9-5 this time.
Berrong took that momentum into the final match with Archer and it looked like it would be an easy victory for Berrong as he led 12-5 in the race to thirteen. Berrong would not win that thirteenth game however, as Archer won 8 games in a row to pull out the 13-12 victory.
Archer collected $810 for first place, while Berrong settled for $500 for second. Kennedy and Duane Davis filled out the top four spots.
Betty Sessions and Lara Rossignol split the prize fund for top female finisher at the event.
The SE Open 9-Ball Tour will be at Doodles Billiards & Grill in Hinesville, GA for their next event on June 7 - 8, 2003.
Photo courtesy of Diana Hoppe - Pool Pics by Hoppe