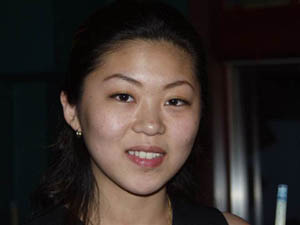 Ga-Young Kim
Day three is complete at the WPBA US Open and the TV Matches are set.
On the one-loss side, Karen Corr will be playing Kelly Fisher. Corr lost to Ga-Young Kim on Saturday, but came back with a win over Jeanette Lee to make it to the TV rounds. Kelly Fisher lost to Karen Corr earlier in the event, but scored wins over Monica Webb, Melissa Little and Allison Fisher to earn her spot in the tv rounds.
The winner between Corr and Fisher will be taking on Melissa Herndon. Herndon sent Allison Fisher to the one-loss side Saturday night 9-8, but then dropped a 9-7 match to Ga-Young Kim for the hot-seat.
The winner of the second TV match will then play Ga-Young Kim in the finals. Ga-Young took the hot-seat on Saturday night with the 9-7 win over Herndon.
Allison Fisher's hold on the #1 position is in danger at this event. If Corr can score a second place finish or higher, she will take the #1 position from Allison.
Complete brackets for this event are available on the WPBA website.