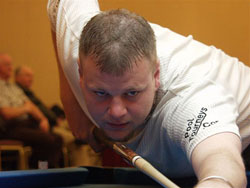 Gabe Owen
As Friday play came to an end at the US Open, Corey Deuel almost pulled another come from behind victory out of his hat. After trailing Gabe Owen early in the match, Deuel was able to get it back to hill-hill but Owen came through in the final game and scored the 11-10 victory. The win over Deuel keeps Owen undefeated and he will face Ronnie Alcano on Saturday.
Joining Owen and Alcano on the right of the board are Charlie Bryant, Rodolfo Luat, Troy Frank, Robb Saez, David Broxson and CJ Wiley. Wiley came through on Friday evening with a dominating 11-3 win over Earl Strickland.
Top players still fighting on the one loss side at the time of this report included Lee Van Cortezza, Mika Immonen, Shawn Putnam and John Schmidt.
Online brackets are updated with all but the final matches on Friday night and will be udpated again on Saturday afternoon.
File photo courtesy of Diana Hoppe - Pool Pics by Hoppe