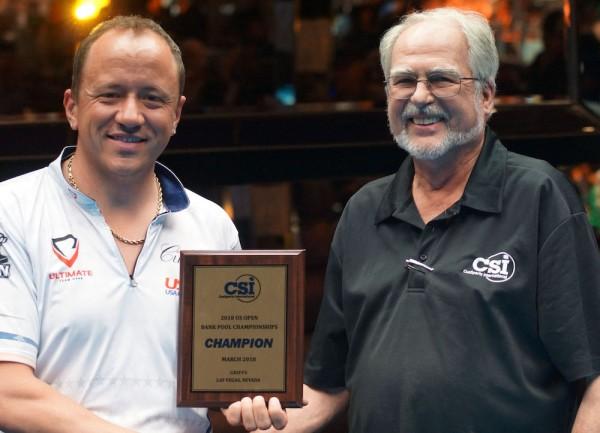 Shane Van Boening with Mark Griffin
Shane Van Boening
proved once again why he is the number one player in the U.S. as he went undefeated to win the US Open Bank Pool Championship.
The US Open Bank Pool Championship started Mar. 20 at Griff's in Las Vegas, with a field of 20 players from across the country. It concluded Mar. 22.
Van Boening's path to the finals included wins over: John Plunkett, 4-1;
Tres Kane
, 4-0;
Ronnie Alcano
, 4-0;
Dee Adkins
, 4-1. He then met Neal Jacobs of Chicago, Ill. for the hot seat match. Jacobs, an animated and aggressive player jumped out to an early 2-1 lead. But Van Boening played with patience to win the match by a score of 4-3 and send Jacobs to the loser's bracket.
In the finals, which were a single race-to-five format, Van Boening came out strong and determined not to leave Jacobs any open balls. Van Boening won the match 5-0, adding another US Open title to his resume.
1. Shane Van Boening, $3,000
2. Neal Jacobs, $1,500
3. Gary Lutman, $1,000
5. Dee Adkins, $250
6. Ronnie Alcano, $250
The US Open One Pocket Championship got underway Mar. 23, also at Griff's in Las Vegas. The 29-player field has been whittled down to 16. Bracket is available at ctsondemand.com and free live stream at
www.facebook.com/playCSI/
.
For more information, contact
Mary Coffman
, CSI Marketing Manager, at 702-719-7665 or by email at mary@playcsipool.com.