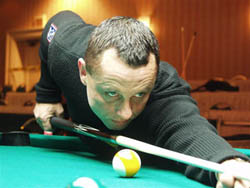 Ronnie Wiseman
Ronnie Wiseman might have lost to Alex Pagulayan for the hot-seat in the One Pocket division of the Carolinas Open at Fast Eddie's in Goldsboro NC, but he won when it mattered the most.
After Wiseman beat Keith McCready 3-2 and Pagulyan beat Nick Varner 3-2, the two friends met up early Wednesday evening for the hot-seat where Alex edged out Wiseman 3-2.
Ronnie took the loss unphased and headed over to the left side of the board for a match with Mike Davis, who had just eliminated Jose Parica 3-1. Wiseman scored the 3-1 victory over Davis to earn the rematch with Pagulayan in the extended finals where he scored the 5-2 win for the tournament victory.
Wiseman collected $2100 for the win, while Pagulayan settled for another second place prize of $1100. The 9-ball division will get underway on Thursday, with Johnny Archer and Earl Strickland expected to be added to the field.
Complete Payouts:
1st Ronnie Wiseman $2100
2nd Alex Pagulayan $1100
3rd Mike Davis $500
4th Jose Parica $400
5th/6th Nick Varner, Keith McCready $275
7th/8th Wade Crane, Jonathan Hennessee $225

Photo courtesy of Diana Hoppe - Pool Pics by Hoppe