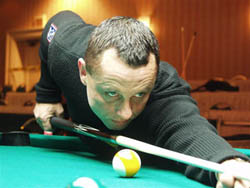 Ronnie Wiseman
Ronnie Wiseman cruised through a field of 42 players to win the Viking Cue 9-Ball Tour event at Snookers Pool & Pub in Southgate MI this weekend.
Wiseman was picked as a co-favorite along with Francisco Diaz at the beginning of the event, and he did not disappoint any of his fans. Early on Sunday, Wiseman put on a clinic in professional 9-ball when he defeated Aaron Aldridge 7-0. Aldridge was allowed to the table a grand total of two times, with both shots coming as the result of push outs by Wiseman. Aldridge missed both shots.
Wiseman raced to the hot seat match where he defeated Canadian Bob Chaperon by the score of 7-3. Chaperon was not well known in the area, but the fans will know who he is now.
Chaperon went to the one-loss side where he defeated Caz Mercinkowski (co-owner of Hall of Fame Billiards) 7-4 to set up the rematch with Wiseman in the finals. Cas got to this match with a great shot against Mark Hosler in the match before. At 6-6, Hosler tied Caz up with a shot that looked hopeless, but after studying the shot, Mercinkowski fired a 2 rail kick shot to make the ball and get out in that rack.
The finals between Wiseman and Chaperon were a replay of the previous meeting, with Wiseman once again cruising to a 7-3 victory.
Wiseman collected $950, while Chaperon settled for $630. Mercinkowski and Mark Hosler filled out the top four spots.
Photo courtesy of Diana Hoppe - Pool Pics by Hoppe
Complete Payouts:
1st Ronnie Wiseman $950
2nd Bob Chaperon $630
3rd Caz Mercinkowski $400
4th Mark Hosler $260
5th/6th Eloy Molina, Aaron Aldridge $100
7th/8th Terry Bailey, Mike Sardelli $60
9th/12th Mark Ritter, Luke Jacko, Tim Gerber, Francisco Diaz $40