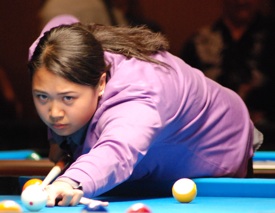 Eleanor Callado
The day started early with the first 12 competitors at 10:00am as Tournament Director Steve Tipton called out the days first matches.  This year marks the first full year of free live web streaming of our non-televised rounds, made possible by Pooldawg.com, the WPBA Presenting Sponsor for Web Streaming 2009.  Each round for the first 3 days of the San Diego Classic will feature one match streamed live over the internet for free.  Visit www.wpba.com for more details!
 
With the new season comes a blank slate for all our players as the rankings points zero out.  Whoever wins this event will get a good jumpstart towards a potential #1 ranking at years' end.  With a new crop of up and comers, the established players need to watch their backs and today saw many of those well-established players upset.  Top 20 seeded player, Julie Kelly, lost her first round matche against Holland native Tamara Rademakers who qualified for this event on the WPBA's Regional Tour – The Ladies Spirit Tour in Florida.  Another Regional Tour star, Liz Cole from the Northwest Women's Pool Association in Washington state, defeated top ranked Melissa Little in their match, 9-7.  Liz went on to play Sarah Rousey but lost that match and will come back tomorrow in the one loss side.  
 
My-Hanh Lac and Belinda Calhoun, both WPBA Exempt players, were featured in the first round web match of the season.  The match started off strong for Belinda, who took a 5-2 lead over the younger player.  But My-Hanh toughed it out and came back to win 9-6.   
 
The real fireworks began as Eleanor Callado, four-time National Collegiate 9 Ball Champion, matched up versus phenom Jasmin Ouschan from Austria.  Eleanor played strong from the start and the match was never more than 1 game in either players favor.  Jasmin, always tough, looked to surge ahead but Eleanor was not to be denied and defeated the #14 ranked player 9-7, shocking Jasmin into the one loss side.  Eleanor went on to lose her next match to Tiffany Nelson- Crain.  
 
The next shot heard 'round the tournament arena was the 2nd round web feature match between Kelly Fisher and Jennifer Chen.  Jennifer, ranked #24, hasn't had a strong win against a top 5 opponent in awhile.  She played well against Kelly, who seemed a bit out of sorts, and summarily knocked the #1 seed into the loser's bracket.  It's been quite some time since Kelly was defeated in only her 2nd round of a tournament.   
 
The hits just kept on coming when Holly Sholes defeated Ga Young Kim in their 2nd round match, 9-7.  Ga Young took a 3-0 lead but Holly caught up and tied the match.  She continued her run to 6-4, where Ga Young attempted a surge but was still down 8-6 when Holly and lady luck on her side made the 9 to win the match.  
 
Iris Ranola, the 2008 Rookie of the Year, showed she was ready to start 2009 as strong as she left 2008.  After having played only 4 WPBA Pro Events in 2008, she finished the season ranked #21.  Iris won both her matches today versus Supadra Boonpasook and Kim Shaw.   
 
Top players Jeanette Lee, Gerda Hofstatter, Sarah Rousey, Vivian Villarreal, and Xiaoting Pan have all made it into the 3rd round, although Vivian was challenged by My-Hanh Lac when there match went hill-hill.  Ewa Laurance played versus Karen Corr in their 2nd round and the match, well into the 1am hour, stayed knotted up the entire way.  Karen reached the hill first though and finished the match off 9-7 to advance into the 3rd round.  
 
 Allison Fisher played Liz Lovely of the previously named Jacoby Great Lakes Tour that has been revitalized as the Jacoby Cues Mid-American Ladies 9 Ball Tour.  Liz, the youngest competitor in the field at just 16, defeated Janet Atwell in her first round and stayed within one game of Allison mid-way through their match when Allison took a 4-3 lead.  But Allison prevailed and won the match 9-4.