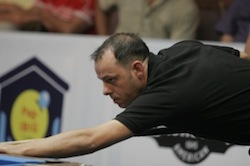 Darren Appleton
The World Ten Ball Championship is down down to just two players the finals will be a showdown between Former World 8-Ball and World 9-Ball Champion Chia-Ching Wu vs Darren Appleton.

Wu was the first to earn a berth in the finals, with his 11-8 win over Filipino newcomer Demosthenes Pulpul. Wu led that match 5-0, but saw that lead slip away as Pulpul won seven straight games for a 7-5 lead. Wu took advantage of a couple of nervous errors by Pulpul and retook the lead at 8-7 and then held on for the win.

Wu's opponent, Appleton, earned his spot in the finals with an 11-9 win over Niels Feijen.

That match saw Feijen take an early 4-2 lead, but Appleton quickly caught up at 4-4.

As the more experienced player in international events such as this, Feijen was expected to be able to control the nerves better in this match. That would not the case as nerves got the better of both players.

Appleton took a late 9-7 lead, but Feijen came back to tie the score again at 9-9.

Neither player seemed able to make balls on their breaks and this led to long drawn out safety battles late in the match.

Appleton got to the hill first at 10-9 and won an extended safety battle in the 20th rack for the 11-9 win.

Sunday play will start with Pulpul vs Feijen playing to determine 3rd and 4th place. Then the finals will begin with Wu playing Appleton in a race to thirteen for $100,000 in prize money.