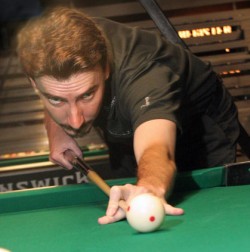 Johnny Archer
Play is underway at the 2006 International Challenge of Champions and Johnny Archer escaped the first round with a victory over Alex Lely.
Archer started out strong and cruised to a 5-1 win in the first set. Lely turned the tables in the second set and scored a dominating 5-2 win to force a single game tiebreaker to determine the winner.
Archer won the all important lag and shot down Lely's hopes with a break and run to secure a spot in the second round.
Archer will face the winner of the Niels Feijen/Marlon Manalo match which takes place today at 7pm est.
Next on the schedule for today is IPT North American 8-Ball Champion Thorsten Hohmann vs Santos Sambajon. Defending champion Fong-Pang Chao will face Ralf Souquet in the final match of the day today.
Complete brackets for the event are posted and will be updated Wednesday and Thursday.