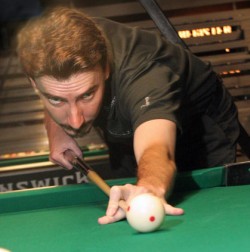 Johnny Archer
Johnny Archer has won the 2006 International Challenge of Champions.
Archer started the day on Thursday with a match against Marlon Manalo. Manalo took the first set 5-3, but Archer fought back and won the second set 5-1 to force a single game tiebreaker. Archer had been in this same position on Wednesday when he won the lag and proceeded to break and run the tie-breaker rack to eliminate Alex Lely. Once again, Archer won the lag and went on to break and run the single rack to eliminate Manalo and earn Archer a spot in the finals.
Archer's opponent in the finals was IPT North American Open 8-Ball Champion Thorsten Hohmann. Hohmann defeated defending champion Fong Pang Chao 5-1 and 5-3 to earn his spot in the finals.
Hohmann came out strong in the finals against Archer and won the first set with a 5-2 score. The next set was all Archer as he came back and won the set 5-1 to force yet another single game tie-breaker to determine the final winner.
Once again, Archer won the lag. This time though, the pool gods turned their back on him as he made the one ball on the break and could only see part of the two ball. Archer opted to push and Hohmann played him safe on the two ball. Archer took an intentional foul on the two knowing that it was not playable even with ball in hand and Hohmann played another safe on the two. Archer took on a tough shot that had him elevating his cue and trying to bank the two ball into a ball that was near a pocket. Archer did not pocket the ball, but the pool gods returned to his side as Hohmann found himself dead hooked on the two after the balls stopped rolling. Hohmann failed to contact the two ball and Archer maneuvered his way through the final rack for the tournament win and $50,000 in prize money.