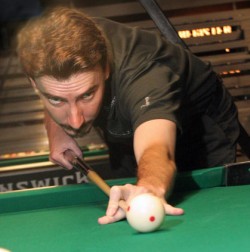 Johnny Archer will face Marlon Manalo on Thursday
Day one of the International Challenge of Champions is complete and the field of players has been cut in half.
In the first match of the day, Johnny Archer defeated Alex Lely in a one game tie breaker to advance to Thursday.
The second match saw IPT North American 8-Ball Champion Thorsten Hohmann defeat Santos Sambajon 5-2 and 5-3 to earn his spot in Thursday play.
The third match of the day featured another single game tie-breaker as Marlon Manalo came back from a 5-2 loss in the first set and won the second set 5-2 and then won the tie breaker to eliminate Niels Feijen.
The final match of the day saw defending champion Fong Pang Chao defeat German Ralf Souquet 5-1 and 5-4 to earn his spot on Thursday.
Thursday play will feature Archer vs Manalo at 5pm EST and Hohmann vs Chao at 6:30 PM EST. The winners of those two matches will face each other in the finals at 8:00 EST where the winner will pocket $50,000 in this winner take all event.
Complete brackets for the event are posted and will be updated Wednesday and Thursday.