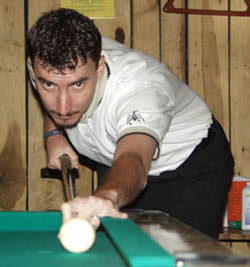 Johnny Archer
With their performances in Las Vegas as the BCA Open 9-Ball Championship, Johnny Archer and Corey Deuel maintained their positions on top of the UPA Calendar and Seedings Rankings.
The Calendar Year Rankings only count the UPA sanctioned events that have taken place within the current Calendar Year and are used to determine the UPA Player Of The Year. Archer was on top of the list prior to the event in Vegas, but only held a 10 point lead over Rodney Morris. Archer saw his lead over Morris climb to 30 points, but Ralf Souquet moved into the second place position, 20 points behind Archer.
The Seeding Rankings count the last 10 UPA sanctioned events and are used to determine invitations if less than 5 events are currently on the Calendar Rankings. Corey Deuel watched his 95 point lead over Jose Parica drop to 75 points and Johnny Archer move into second place, a mere 70 points behind Deuel.
The next UPA Sanctioned event will be the Gabriel's 9-Ball Las Vegas Open on August 19th at The Riviera Hotel and Casino in Las Vegas, NV.
Photo courtesy of Diana Hoppe - Pool Pics by Hoppe