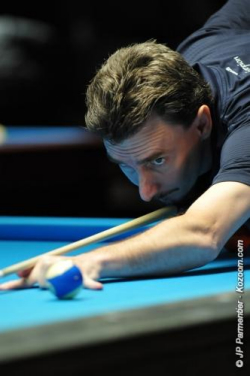 Johnny Archer
Johnny Archer has won the United States 10 Ball Invitational and in so doing has done the nearly impossible feat of winning two major professional events in a row. He won the Seminole Pro Tour finale the week previous.

The Unites States 10 Ball Invitational is the brainchild of professional player Corey Deuel who also bankrolled the event. Deuel devised a format where the players moved from match to match based not on the luck of the draw but rather based on their performance. The idea is that this way the best players play the best players and progress according to their winning performance.

Archer must have favored the format as he came out ahead of Deuel in the end to claim the crown. This, combined with the win at the Hard Rock, will put Archer either at or very near the top of the BCA points list. Archer has been working hard of late to hone his game and it has become extremely sharp. He is now the man to beat on American soil. And, the nest points event is Turning Stone, a venue that has provided him with a lot of success in recent years.

Other players also helped their point standings in this event. Mike Dechaine and John Schmidt tied for 3rd, Rodney Morris calmed 5th, Rafael Martinez grabbed 6th, Stevie Moore took 7th and Charlie Williams 8th. Kim Davenport also had another nice performance here and finished 9th while Jerry Calderone rounded out the top 10 finishers.

Our hats are off to Corey Deuel for being a player who is willing to put out the work and the money to promote a pro event. While many others sit and wait for events to occur he took the bull by the horns and created an event that benefited many of his fellow pros. His example is a great one for others to follow.