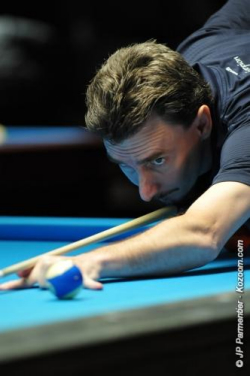 Johnny Archer
In the first ever Gem City 10-Ball Classic in Marietta, GA on the weekend of July 10-12, Johnny Archer, playing in the room he co-owns with Kim Davenport – The Marietta Billiard Club - worked his way through a field of 64 entrants and completed an undefeated weekend with a victory over Steve Moore in the finals.

"We're just overjoyed by the reaction of the players and the fans to this first Gem City Classic," said event director Terry Hammill. "Here it was, late Sunday in Atlanta and it's storming outside and we've got over 200 people watching the final matches.

"This place has been jammed since Thursday night," he added. "The tournament itself and the first annual Custom Cue and Case Show (that ran in conjunction) have both vastly exceeded our expectations."

It didn't hurt any to have some of the top names in the game competing for the $5,400-added prize pool with its $3,500 first place prize. Archer and Davenport were on hand in their own room, of course, but so were Larry Nevel, Neil Fujiwara, Ronnie Wiseman, Steve Moore, Mike Davis, and Jason Richko, to name just a few.

Archer moved among the winners' side final four with a defeat over Wiseman and then downed Shawn Putnam 9-4 and John Smith 9-3 to get into the hot seat. Nevel, in the meantime, had sent Fujiwara west before squaring off against Smith, who then sent him to join Fujiwara with a 9-2 win, before falling to Archer.

The four matches that would decide the 9 through 12 slots involved an impressive array of billiard talent in themselves - Davenport vs. Wiseman, Cliff McCollough vs. Keith Bennett, Davis vs. Fujiwara and Moore vs. Arlo Walsman. Davenport, McCollough, Davis and Moore would emerge from this pack, with Davenport and Moore advancing to pick up Nevel and Putnam, coming over from the winners' side final four. Nevel ended Davenport's bid 9-4 to get into the quarterfinals versus Moore, who'd sent Putnam packing 9-2. Not surprisingly, the Nevel/Moore matchup proved to be a struggle that ended with a 9-7 Moore win that put him into the semifinals versus Smith.

With a 9-6 win over Smith, Moore, playing what Hammill described as some of the 'best pool he'd ever seen him play,' moved into the finals against Archer. Archer, though, was not to be denied in his home room and after establishing a short lead, never relinquished it. Moore battled back on a couple of occasions to creep closer, but when it was over, Archer had prevailed 11-7, bringing home the first place prize in the first annual Gem City 10-Ball Classic.