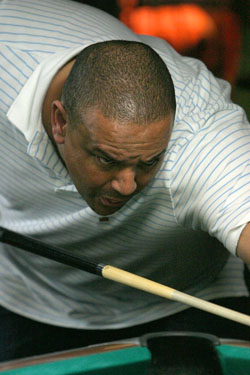 Billy Palmer
It didn't end until five am on Monday morning, but the Jay Swanson Memorial tournament crowned Billy Palmer as the 2007 champion.
Palmer scored wins over Pete Sullivan, Joe Hughes and Ernesto Dominguez to end Saturday play undefeated. The road didn't get any easier for Palmer on Sunday where he beat Justin Whitehead, Max Eberle, Brian Parks, Alex Laongco, and then Tony Chohan to take the hot-seat.
Palmer's opponent in the finals would be Tang Hoa. Hoa had an equally impressive run that included wins over George Michaels and Ismael Paez before a disappointing loss to Tony Chohan on the winners side on Sunday. Hoa looked to have his hands full on the one loss side as his next opponent, Arizona's Jimmy Mendoza, had already won ten straight matches on the one loss side and had all the momentun. Hoa brought Mendoza's streak to an end and sent Mendoza back to Arizona in 5th place. Hoa then earned back to back hill-hill wins over Paez and Chohan to earn his spot in the finals.
At the end of this one though, Billy Palmer was unstoppable as he cruised to a 13-7 win.
Palmer earned $2500 for first, while Hoa settled for $1500 in second place prize money.
Photo courtesy of David Thomson - Medium Pool