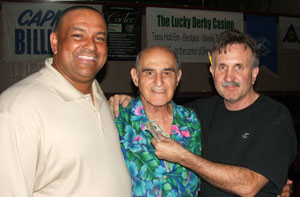 Billy Palmer, Chuck Markulis and Tony Annigoni
Billy Palmer goes undefeated and wins the inaugural Dave Piona Memorial 9 Ball tournament. The First Annual event was held September 9th at Hard Times Billiards in Sacramento. Sixty Four players from all over northern California and western Nevada came to pay their respects and play for the $1500 added event
Billy Palmer went undefeated to take the first place prize with a hard fought win in the finals over Tony Annigoni.
The format was double elimination race to 6 on the winner's side and race to 4 on the one loss side. Play started at 1pm and finished 10 ½ hours later.
Tony Annigoni fought hard for his place in the finals. After losing his match to Sacramento's Robert Aldana, Tony won 3 matches in a row and lost only one game during these matches.
Other notable players in the tournament were George Michaels Bay Area CA, Bill Stock of Las Vegas NV, John Henderson El Dorado CA, Chris MacDonald Eureka CA, Ray Zimmerman Santa Rosa CA, Carl Wilson of Carson City NV and Deo Alpajaro of the Bay Area CA.
Hard Times Tournament Director Tom Suarez ran the event with the help of BCAPL Head National referee Ken Shuman.