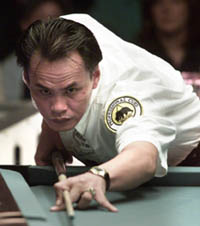 Francisco Bustamante
Francisco Bustamante captured an early lead at the 2004 888.com World Pool League event at the N.O.T Building in central Warsaw.
Bustamante started his day with a 6-4 win over reigning champion Rodney Morris. Morris scratched on the break at 2-2 allowing Bustamante to take the lead and he never relinquished it. Bustamante ended his day with a 6-4 win over Steve Davis. In a repeat of the afternoon match, the score was tied at 2-2 before Bustamante took control and won the match.
Second place in the event belongs to 'The Terminator' Niels Feijen. Feijen ended his afternoon match against Steve Davis with a 5-5 tie and then won his evening match against World 9-Ball Champion Alex Pagulayan 6-4.
The event continues on Saturday and Sunday with each player taking on the other five players in 10 game matches. After the round robin phase is complete, the top four players will play a single elimination tournament with the final winner receiving $20,000 in prize money.
Results After Six Matches