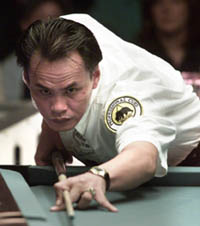 Francisco Bustamante
The round robin phase is complete at the 888.com World Pool League and the players are now known for the semi-final round.
Francisco Bustamante had already secured his position in the semi-finals, along with Niels Feijen, when the two players faced off on Sunday. Bustamante took control midway through the match and made a statement with a 7-3 win over Feijen.
The next match saw Thomas Engert take on Steve Davis in a match that both players needed to win in order to have any chance to continue into the semi-final rounds. Engert took an early lead in this match and then broke and ran the last rack to earn a 6-4 victory. The loss by Davis eliminated him from a possible berth in the semi-finals and Engert would need Alex Pagulayan to defeat Rodney Morris in the third match of the afternoon for him to advance.
Pagulayan was not able to secure the victory that Engert needed, as he and Morris played to a 5-5 tie and both qualified for the semi-final round.
In the semi-final round Sunday evening, Bustamante will face Morris and Pagulayan will face Feijen with the winners playing for the $20,000 first prize.