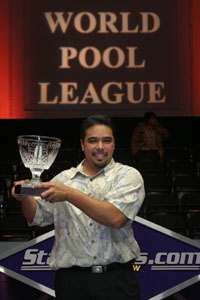 Rodney Morris
Day two is complete at the 888.com World Pool League and some players are now able to breath easy knowing their spot in the semi-finals is assured.
With a 5-5 draw in his match against Thomas Engert, Francisco Bustamante remains atop the standings and has assured himself a spot in the semis. Bustamante led the match 4-2, but Engert was able to come back to tie it at 4-4 and then earn one point for the tie. With only two points to his credit, Engert is not completely eliminated from semi-final contention, but it would require everything to go in his favor to still earn a spot.
Defending champion Rodney Morris finally got a win to his credit with a 7-3 victory over Niels Feijen. Morris led early by scores of 3-1 and 4-2 on his way to the win. A win by Feijen would have guaranteed him a spot in the semi-finals, but he will likely earn the spot anyway. Morris will still need a win against Alex Pagulayan on Sunday to have any chance of making it to the semi-finals.
The other evening match saw Steve Davis and Pagulayan playing with both players looking for wins to cement their positions in the semi-finals. Davis looked in control early as he took a quick 3-0 lead, but Pagulayan fought back to tie the match at 3-3. Davis took the lead again at 4-3, but Pagulayan again tied it at 4-4. Davis got to 5-4 but Pagulayan broke and ran the final rack to earn a 5-5 tie.
The event continues Sunday with one more round of play in the round robin phase. After the round robin phase is complete, the top four players will play a single elimination tournament with the final winner receiving $20,000 in prize money.
Results After Twelve Matches