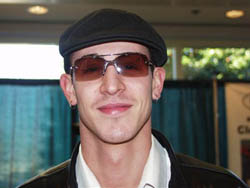 Joey K sent Deuel to the one-loss side
As round two of the Big Apple 9-Ball Challenge draws to a close, the upsets are coming from all sides.
Round two saw reigning World Champion Thorsten Hohmann, Corey Deuel, Danny Harriman, Young Hwa Jeong and Ronnie Wiseman all shown their way to the one-loss side of the board. Deuel and Hohmann both lost hill-hill matches. Deuel's loss came to Joey Korsiak, while Hohmann's loss came at the hands of Danny Barouty.
Chinese Taipei sensation Ching-Shun Yang won a hill-hill match over Shawn Putnam on Friday night. Yang lead 9-7 in the match, but Putnam sandwiched 2 table runs around a 9-ball break to take a 10-9 lead. Yang was cool and confident as he won the 20th rack to tie the match at 10-10 and then proceeded to break and run the case rack for the win.
English Champion Daryl Peach started the event with a bang, as he upset Kid Delicious Danny Basavich 11-4. Peach, however, did not make it out of day one. He lost his next match to Mika Immonen on the winners side and then lost to Chris Szuter on the one-loss side.
Friday evening matches are continuing into the wee hours of the morning and we will have an update of those results on our online brackets Saturday morning.