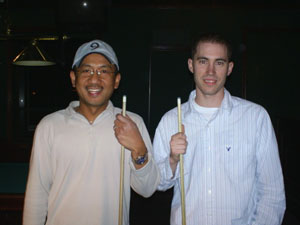 Eddie Reyes and Craig Cochrane
New faces were at Bobby D's for stop 11 of The 10 K Tour. Despite the Calgary events where some of the regular players went to compete with the best of Canada, a field of 52 players attended the event and a wonderful time was has by all.
Craig Cochrane cruised to the 'hot seat' relatively uncontested and sent Jeff Dick to the one-loss side with ease 7-3.
On the one loss side Darcy McInley (6) playing real well bested Jody Matheson (8) with a score of 6-5. Also Eddie Reyes (7) bested Justin Zammit (7) in a hill-hill match.
Eddie Reyes took a reload and cruised to a 7-0 win over Darcy McInley and then took out Jeff Dick with a 7-1 score.
Eddie saw the brass ring and wanted a shot at it in the finals against newcomer Craig Cochrane. Reyes took the first match of the finals 7-4, and then went on to take the second set and his first Canadian 10K Tour win.
Keep tabs with the N.U.T.S. as the 10 K Tour has joined forces with Mike Janis and look forward to this venture. It can only get better for the players, see you at the next stop at Color Of Money Billiards for stop 12 on May 7-8 of 2005
Final Results:
1st Eddie Reyes $1850
2nd Craig Cochrane $900
3rd Jeff Dick $500
4th Darcy McInley $200
5th/6th Justin Zammit, Jody Matheson $50

The second chance tournament was won by:
1st Pahdahsung Shognosh $100
2nd Chris Courteaux $50
3rd Bill Todd $25.00