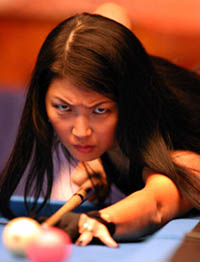 Jeanette Lee
Seoul, Korea- Six of the world's most talented and beautiful female pool professionals will compete against each other on Sept 13-14 in two exciting events. The sport's most recognizable superstar Jeanette Lee will head an all-star cast including USA's Top 10 ranked Jennifer Barretta and Tiffany Nelson, Japan's #1 Miyuki Sakai, World Champion from Korea Ga Young Kim, and Korean 19 year old sensation Yuram Cha .
The first event, Women's Ultimate Trickshot Challenge, will be held at Lotte World, the largest amusement park in Korea. Revered as the Disney World of Asia, Lotte World will have over 30,000 fans watching as it will be aired live for 2 hours on MBC ESPN.
On Sept 14, the ladies will move to the exquisite Grand Hyatt Regency in Incheon for the Empress Cup. The Empress Cup will be a round robin 9 Ball format that will eventually determine the best of the six women champion field and crown the winner "The Empress of Pool".
Both events will be aired live on MBC ESPN, the #1 sports network in Korea.
For complete details see the official flyer for the events at www.dragonpromotions.com
Coverage and updates on the events will be forthcoming so please stay tuned