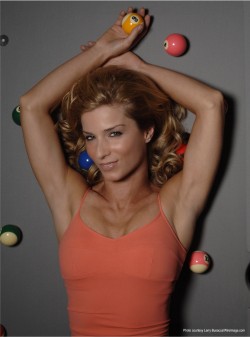 Jennifer Barretta
Incheon, Korea - Six of the world's greatest and beautiful players competed in the first annual Empress Cup at the Hyatt Regency in Incheon, Korea on Sept 14. The stars included Jeanette Lee, Tiffany Nelson, Ga Young Kim, Miyuki Sakai, Yuram Cha, and Jennifer Barretta.
The format was round robin races to 5, alternate breaks, and ladies were in two groups of 3 players each. Best record in each group would play each other for the Empress Cup.
The event was pressure packed with a standing room audience and media including major newspapers,radio and every major TV network covering the event, with MBC ESPN exclusively filming the matches live .
First up in Group A was the Black Widow against 9mm Barretta and the nerves were showing as both players made easy unforced errors the first 2 racks including an easy 9 ball combination missed by Lee. Lee reasserted herself to win the next game and the two battled until 4-3 Lee advantage when she missed a straight in the side 9 Ball to conclude the match. Barretta came back and broke and ran the last rack to win.
Next Group B , World Champion Ga Young Kim easily took out Nelson who seemed to be having trouble maintaining her normal solid game. Lee came back the next match and was visibly determined to show the Korean fans why she's the world's most famous pool player and she tore the young 19 year old sensation Cha apart with amazing shot making, banks, and caroms to win 5-0.
Back in Group B, Kim faced Japan's Sakai. Sakai seemed very nervous and botched some easy run outs and an easy 9 Ball which gave Kim a boost and she proceeded to run over Sakai 5-1 to secure her spot in the finals. The final group match was Barretta against Cha. Lee needed Cha to win and hold Barretta to 3 games in order for Lee to advance. Unfortunaetly for Lee, Barretta had alternate plans as she played flawlessly to cruise to the finals with a 5-0 win over Cha.
The finals pitted Korea star Kim against USA's hopeful Barretta, who was appearing in her first international finals. Kim made a couple errors but Barretta made her pay for each one and kept her serve as she defeated Kim 6-3 for the win.
"It feels good to win my first major title here." said the 6 month pregnant Barretta who is due on Dec 24 this year. " Now I have to get copies of my matches so that I can show my son later he was here with mommy helping her win!"
The Empress Cup matches were scheduled to air live for 2 hours, but due to enormous ratings , the matches were aired an additional 2 hours making it a 4 hour live coverage straight and pushing Korea's national baseball league game back. Empress Cup was the #1 show in its time slot for 4 hours breaking records for any billiards show aired in Korea .
Empress Cup is part of the Brunswick Korea Pro Pool Tour and is a Dragon Promotions production. www.dragonpromotions.com