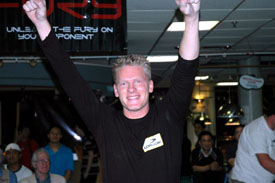 Niels Feijen
Niels Feijen is the 2005 Big Apple 9-Ball Classic Champion.
After winning three hill-hill matches on Saturday, Niels started Sunday with another hill-hill match. This time the match was against Ralf Souquet. At 9-9, Feijen calmly broke and ran the last rack to punch his ticket for the finals against Souquet's German countryman Thomas Engert.
Engert, who finished a disappointing second in the Challenge of Champions earlier in the week, had his sights set on first place and came out strong in the final match. Engert won the first six games before Feijen was able to get on the scoreboard. Feijen then started his comeback. He won three games to get the score back to 6-3, then 7-4, then 8-6. Feijen finally tied the match at 11-11 and it was looking like yet another hill-hill match could be in Feijen's future. Feijen made sure that would not happen by winning the next two games for the 13-11 victory.
Feijen pocketed $10,000 for the win, with Engert taking home $5000 for second place. Souquet and Tony Crosby filled out the top four spots.
Online brackets are updated with all of the matches and we have two photo galleries from Diana Hoppe. Gallery 1 | Gallery 2
Complete Results:
1st Niels Feijen $10000
2nd Thomas Engert $5000
3rd Ralf Souquet $2500
4th Tony Crosby $1500
5th/6th Danny Basavich, Robb Saez $1000
7th/8th Jose Parica, Earl Strickland $700
9th/12th Johnny Archer, Efren Reyes, Alan Rolon, Gabe Owen $500
13th/16th Danny Harriman, Francisco Bustamante, Jason Cruz, Sean Morgan $250
Photo courtesy of Diana Hoppe - Pool Pics By Hoppe