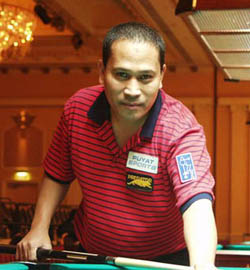 Ramil Gallego
Ramil "Bebeng" Gallego has scored a stunningly easy victory in the finals of the Tokyo 9-Ball Open beating last year's World Pool Champion Thorsten Hohmann of Germany 7-2 after whipping Charlie "The Dragon" Williams of the US in the semi finals in three sets, 6-7, 7-5, 6-2. Hohmann earned a finals berth after beating Yoshiyuki Niwa of Japan also in three sets, 2-6, 6-4, 6-4.
Gallego improved on his runner-up finish in the Japan Open last year after having earlier won the 2003 Touhoku Open. Gallego showed his class in the quarter finals when he showed nerves of steel against German ace Ralf Souquet. With the score tied at one set apiece, Gallego played some excellent pool against the patient and mechanical Souquet eventually pulling away to win the final set 6-3.
Youthful Dennis Orcullo and countryman Antonio Lining were both ousted in the quarter finals with Orcullo losing a three-set battle against Williams who used his awesome break to advantage while Lining lost a similar struggle against Hohmann. According to a sketchy report received by Manila Standard from Tokyo, Orcullo ousted Efren "Bata" Reyes in the double round eliminations by a lopsided 9-2 count while Japan's Hideyuki Tanaka beat Francisco "Django" Bustamante 9-4.
The final was a race to seven with the alternate break format and despite the opportunities given him Hohmann could not get into his normal aggressive rhythm while Gallego was cool and collected throughout the match and was in control right from the start behind a solid break and some excellent positional play. The win was worth $11,200 for Gallego.
Recognized pool wizards Reyes and Bustamante were among the super stars who failed to make it to the quarter finals, leaving Gallego who lost to Marcus Chamat 9-6 in the round of 32 in the 2004 World Pool Championships, Lining and rising star Orcullo to battle the best from the US and Europe for the top prize.
File photo courtesy of Diana Hoppe - Pool Pics By Hoppe