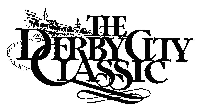 The bank pool event at the Derby City Classic is now complete where Danny Harriman defeated Steve McAninch in the finals to win the event. Louis D'Marco and Larry Nevel tied for third.
Harriman collected $5000 for first while McAninch settled for $2300 for second. D'Marco and Nevel won $1600 each.
The one pocket event which started with 293 players will play down to around 145 players at the end of round two which will conclude Tuesday morning. Players already advancing into round three include Dee Adkins, Marcus Chamat, Jose Parica, Cliff Joyner, Troy Frank, Corey Deuel, Scott Frost, Shawn Putnam, Buddy Hall, Larry Nevel and Shannon Daulton. Daulton won his match in under fifteen minutes.
The second mini event of the tournament is going on Monday night and the game is one handed one pocket. It is still underway and will be going on most of the night.
Of course, one of the big draws of the Derby City Classic is 'challenge matches' and so far Eric Durbin is the big winner. Durbin has come out on top in challenge matches against Tony Coleman and Tony Chohan and was drawing a big crown for his challenge match against Tony Watson Monday night.
Alex Pagulayan came out ahead of Keith McCready in a challenge match earlier in the week giving McCready the seven and Scott Frost was playing Alex Pagulayan Monday night.