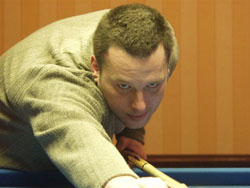 Dennis Hatch
The Joss NE 9-Ball Tour was back in action this weekend at Michelle's Billiards in Baldwinsville, NY for a $3000 added event. Top players in the field included Dennis Hatch, Ryan McCreesh, Mike Zuglan, Tom D'Alfonso and Joey Korsiak. In addition to these Joss Tour regulars, the tournament also welcomed a handful of top players from Canada including John Morra, Erik Hjorleifson and Eric Hildebrand.
The first round of play saw a fair amount of fireworks with tournament favorite Dennis Hatch beaten by Hjorleifson and D'Alfonso easily beaten 9-4 by room owner Michelle Allen.
The Canadian contingent brought their 'A' games from up north and the winners side came down to Eric Hildebrand and Erik Hjorleifson after they scored identical 9-3 wins over Jose Mendez and Evan Broxmeyer respectively. The hot-seat went to Erik Hjorleifson after a 9-7 win over Hildebrand.
On the one loss side, Dennis Hatch was plowing through the field with notable wins over D'Alfonso, Ryan McCreesh, John Morra, Jose Mendez and Joey Korsiak. He went on to dispatch Hildebrand to earn his rematch with Hjoreifson in the double elimination finals.
The first set of the finals saw Hjorleifson with an early 6-3 lead, but Hatch came back to earn a hill-hill win at 9-8. Hatch took an early lead in the second set and held off Hjorleifson until late in the set when Hjorleifson forged ahead 7-6. A dry break turned the table over Hatch and that was all the opening he needed to win the next three games and take the match 9-7.
Hatch earned $1600 for first, while Hjorleifson settled for $1140. Hildebrand and Korsiak filled out the top four spots.
The Joss NE 9-Ball Tour will be at the Pro Billiard Lounge in Rotterdam, NY next weekend for the $2000 added Northeast 9-Ball Open XVIII. Tour director Mike Zuglan announced last week the Turning Stone Classic VII to take place August 17th - 20th at Turning Stone Casino in Verona. Interested players should contact Mike Zuglan at 518-356-7163 for more info.
Complete Payouts:
1st Dennis Hatch $1600
2nd Erik Hjorleifson $1140
3rd Eric Hildebrand $850
4th Joey Korsiak $650
5th/6th Jose Mendez, Evan Broxmeyer $450
7th/8th Dave Grau, John Morra $250
File photo courtesy of Diana Hoppe - Pool Pics by Hoppe