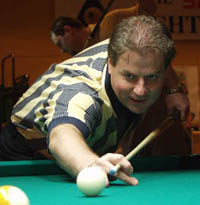 Luc Salvas
The Canadian Pechauer Tour 2nd stop was held at the Club de billard Latourelle, located in the magnificent city of Valleyfield, where more than 30 players from Quebec and Ontario gathered to compete in the $2500 added event. The winner of the last tournament, Danny Hewitt, was certainly there to defend his win in Brossard, as well as Luc Salvas, owner of the pool room, who had all his fans cheering for him. But nothing looked easy with a field including Alain Martel, Jeff white, Chris Orme and Sylvain Grenier.
The first 16th players in the ranking were seeded, but we didn't expect the ranking to be respected like that. Indeed, on his side of the chart, Danny Hewitt cruised to final on the winner side with impressive victories over his opponents. On his side, Luc did the same, energized by the crowd cheering for him, storming through the winner's side like lightning. The tournament was running so fast that by 5 o'clock on Saturday, a few players had already ended their day of work.
Onec again, the table was set the next day for a final between the last two finalist in Brossard, Luc and Danny who both seemed confident. Although favored by the crowd, Luc had his hands full with a Danny Hewitt certainly ready to achieve the same result as the last tournament. Danny, who had served 5, 6 and 7 break and runs in his last matches, had the same plan for Luc, who was confined to his chair, watching the show helplessly. But everyobe who knows Luc knew the day wasn't over yet and that, still, everything was possible.
On the loser side, Sylvain Grenier knew he would have his hands full with a tough competitor in Chris Orme. Chris started out strong winning the first 3 games to see a Sylvain Grenier totally unstoppable winning the next 9 games and the match. Then, Sylvain went on to win against Francis Crevier by a score of 9-4 and Rodney Cuillerier by a score of 9-7. Luc was waiting firmly for Sylvain on the loser side final and was too strong for him as he ran like a tornado around the table to finally win 9-4 over Sylvain.
For the second time in two tournaments, we had the chance to witness a final between Luc and Danny. Determined to repeat his win, Danny stumbled accross a Luc Salvas totally dynamized by the crowd and it was enough for him to secure the victory over Danny by a score of 13-9. Once again, a very fast final which took just over an hour.
Photo courtesy of Diana Hoppe - Pool Pics by Hoppe
Here are the complete results:
1st Luc Salvas $1500
2nd Danny Hewitt $1000
3rd Sylvain Grenier $700
4th Rodney Cuillerier $500
5th/6th Alain Martel, Francis Crevier $300
7th/8th Martin Sears, Chris Orme $200
9th/12th Al Logan, Andre Goyette, Normand Pomminville, Fred Lapointe $100