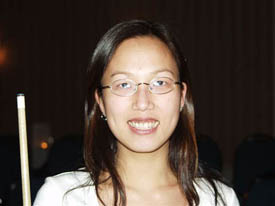 Hsin Huang
Hsin Huang made it 'three in a row' with her third straight win on the Northwest Womens Pool Association tour at McQ's in Spokane, WA.
Huang navigated her way through a field of 48 players to take the hot-seat with a 7-1 win over Mona Remedios. Remedios lost to Vancouver's Katherine Czarkowski on the one-loss side to set up the extended final match between Huang and Czarkowski.
Czarkowski kept the final match close, but in the end it was Huang scoring the 9-6 victory.
Huang collected $570 for first, while Czarkowski settled for $358 in second place prize money. Remedios and Jo Woodward filled out the top four spots.
The NWPA tour will be at City Lights in Tacoma, WA on July 19th - 20th for their next event which will be a qualifier for the WPBA Nationals.
Photo courtesy of Diana Hoppe - Pool Pics by Hoppe
Complete Payouts:
1 Hsin Huang $570
2 Katherine Czarkowski $358
3rd Mona Remedios $258
4th Jo Woodward $200
5-6 Martha Hartsell, Morgan Steinman $128
7-8 Andrena Browne, Kim Gates $98
9-12 Marian Harrison, Tamre Geene-Rogers, Mary Hopkin, Andrea Saenz-Maes $84