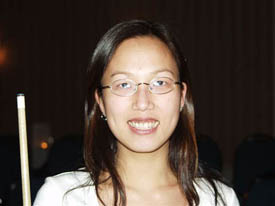 Hsin Huang
Taiwan's Hsin Huang won her second straight Northwest Womens Pool Association tournament this weekend.
Huang, who came from the one-loss side last month for her win at Dr. Cue Billiards in Shoreline WA, lost early to her travelling partner Kim Ga Young from Korea.
Huang showed that she can get it done on both sides of the board, as she defeated Tamre Greene Rodgers, Martha Hartsell and Mona Remedios to get to the finals and another shot at Young in the extended race to 9 finals.
The final match was a battle with both ladies alternating racks to the 6-6 point, before Huang turned it up a notch. Huang won rack 13 and did not allow Young back to the table as she broke and ran the last 2 racks for the 9-6 victory.
Huang collected $580 for the win, while Young settled for $360 for second. Remedios and Hartsell filled out the top four spots.
The NWPA tour will be at McQ's in Spokane, WA on June 21st - 22nd for their next event.
Photo courtesy of Diana Hoppe - Pool Pics by Hoppe
Complete Payouts:
1st Hsin Huang (Taiwan) $580
2nd Kim Ga Young (Korea) $360
3rd Mona Remedios (Vancouver BC) $236
4th Martha Hartsell (Eugene OR) $178
5th/6th Tamre Greene Rodgers (Bothell WA), Morgan Steinman (Darby MT) $106
7th/8th Shawn Wolfe (Renton WA), Kim Gates (Auburn, WA) $76