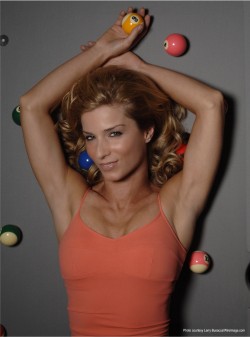 Jennifer Barretta
New York native Jennifer Barretta - top 24 ranked WPBA Player and no stranger to the media, has been invited by David Asman and Fox Business Network to appear on his nationally aired program "America's Nightly Scoreboard" this coming Friday, May 16, 2008 in a live interview at 7:00pm EST.

Mr. Asman is interested in the "sleek, sexy success behind the WPBA" and wants to know what it is about Women's Professional Billiards that people love. Being a business news network, he'll also ask Jennifer's opinion on what strategies she as a player uses that other professional women could take note of and apply into the business world.

For her part, Jennifer is excited at the prospect of discussing Women's Professional Billiards in the context of business, "It's an honor to represent the WPBA on a nationally televised program, especially because the program respects the sport of billiards as a serious business."

The program will re-air at 10:00pm EST. Check local listings for the Fox Business Network in your area.