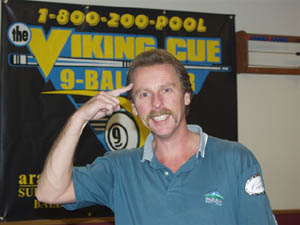 Earl Strickland
Day five at the 29th Annual US Open has witnessed the elimination of multiple top seeds.
Defending champion Jeremy Jones was ousted in a one-sided 11-3 match against Earl Strickland and reigning World Champion Alex Pagulayan was eliminated by Eric Hjorliefson 11-5. Other top players eliminated on Friday were Tony Chohan, Jose Garcia, John Schmidt and Allen Hopkins.
Matches will continue all day with winners side action scheduled for Friday evening.
The Billiard Club Network featured match at 7pm EST will be either Shannon Daulton v Efren Reyes or Tony Robles vs Tyler Edey.
Online brackets are updated and photos are being added to Carol Whiteside's online photo gallery today.
Photo courtesy of Carol Whiteside