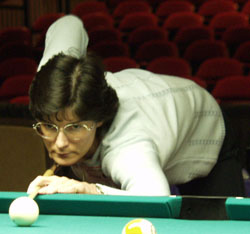 Karen Corr
The final day of the J. Pechauer Custom Cues Northeast Women's 9-Ball Tour (JPNEWT) at Primetime Bar & Grill in Sayreville, New Jersey (www.ptsportsbar.com) has come to a close. Again many thanks to owner Kevin Seltzer and his staff for taking care of all the ladies this weekend! The New Jersey State 9-Ball Championship has been decided with WPBA star Karen Corr coming out on top of the forty-four player field from the one-loss side loosing the hot-seat to none other than Kelly Fisher, with the 2010 US Open qualifier acquired by Pamela Cimarelli.
 
Sunday started off with a dynamic field including such names as Iris Ranola, Karen Corr, Megan Smith, My-Hanh Lac, Kelly Fisher, Julie Kelly, and Pam Cimarelli. Also included in the twelve players returning, Morgan Steinman, Candi Rego, Ji-Hyun Park Thompson, Borana Andoni, and Ashea Erdahl.
 
The no-loss side of the board quickly dwindled down to Corr (d. J. Kelly 7-1) and Fisher (d. P. Cimarelli 7-5), while the one-loss side saw advances from Iris Ranola over Erdahl 7-3, Park Thompson 7-1, and Cimarelli 7-2 before her final loss to Julie Kelly 7-4 (ironically, the same score that put her on the one-loss side and the same player to do it). Lac ended with the same fate against Julie Kelly but her set ended on the hill 7-6. The semis saw Corr and Kelly battle it out to see who would return to the final arena with Fisher - Corr took the 7-5 win to avenge her earlier hot-seat loss.
 
In the modified race final set (race to nine if one-loss side winner hits seven first or to seven if the hot-seat winner gets there first), Fisher jumped out to a 5-2 lead. Corr took a quick break and came back to take the lead and was the first to jump on seven as Fisher sat at six. Next rack, Fisher tied it up 7-7 but in the following game, an unusual miscue on a six ball just six inches from the side pocket allowed Corr to take the hill. The final rack offered plenty of safety play before a missed safety by Fisher and a run out of the final few balls by Corr.
 
Next up on the schedule, August 22nd-23rd at Hot Shots Billiards (hotshotnj.com) in Deptford, New Jersey. This approximately $1500 added stop is slated to be a qualifier for the WPBA Colorado Classic. Then, Castle Billiards (www.castlebilliards.com) in East Rutherford, NJ (approx. $1500 added) on September 26th-27th. The schedule continues to grow, so stop into the tour website at www.jpnewt.com
 
If you are interested in finding out more about the tour, being added to the email distribution list, or sponsorship opportunities, contact Linda Shea directly at email sheaece@aol.com or call (443) 852-0020.