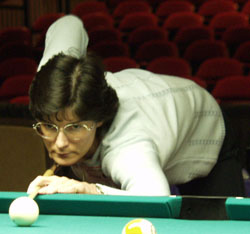 Karen Corr
With all of the titles that Karen Corr has won in her career, a fan might think that there are very few titles left on her to-do list. She can now mark the International Challenge of Champions off of that to-do list.
Corr started her day with a dominating 5-2 and 5-3 win over Kelly Fisher. That earned her a spot in the finals against defending champion Ga-Young Kim.
The first set against Kim was close all the way, with the players tied at 1-1, 2-2 and 3-3 before Corr took control and won the last two games for the 5-3 win.
The second set saw Corr take an early 2-0 lead, but Kim fought back and won three straight games to take the lead 3-2. Corr had been close to this title many times in the past and she was not going to let it slip from her grasp this time. Corr won the next three games for the 5-3 win and her first Challenge of Champions title.
The win earned Corr $25,000 in prize money.
File photo courtesy of Roberta Case