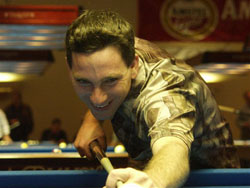 Tommy Kennedy
The SE Open 9-Ball Tour was in Lake Worth, Florida at Playboy Billiards on November 4th and 5th for their latest stop.
The winners side came down to Randy Epperson vs Richard Broumpton and Epperson won 9-5. At the same time, tour director Tommy Kennedy was eliminating Tony Ruberto on the left side of the board 9-7.
Kennedy moved on to eliminate Broumpton 9-5 to earn his spot in the finals.
The final match couldn't have been closer with Kennedy winning 11-10 to earn the first prize of $650. Epperson settled for $450 in prize money. All players were paid in cash immediately following the event.
Complete Results:
1st Tommy Kennedy $650
2nd Randy Epperson $450
3rd Richard Broumpton $300
4th Tony Ruberto $200
5th/6th Curtis Kelley, Hunter Lombardo $150
7th/8th Tony Martzakis, Blair Thein $70