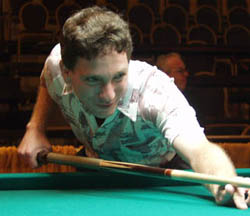 Tommy Kennedy
Tommy Kennedy went undefeated through a field of 32 players for the victory at the SE Open 9-Ball Tour stop at George's Billiards in Boynton Beach, FL.
Kennedy took the hot-seat with a come-from-behind win over Randy Epperson. Epperson lead Kennedy 7-3 before Kennedy won six straight games to win the set 9-7.
After Epperson lost to Claude Marrie on the one-loss side, Kennedy scored another close win as he defeated Marrie 13-11.
Kennedy won $675 and Marrie settled for $375. Epperson and Mike Williams from Chicago filled out the top four spots. Ellen Van Buren and Nathan Rose were the top female and junior finishers. They both won $50.
The crowd was entertained on Friday night by Kennedy who put on an exhibition. After that exhibition, the crowd was treated to a concert by the band American Pie which boasts the daughters of room owner George Vittini as members.
Kennedy expressed his thanks to his asst. tournament director Karen Roberts for helping run such a smooth event.
The SE Open 9-Ball Tour will be at Doodles Billiards & Grill in Hinesville,GA on November 8th - 9th for their next event. The Tour also added another date to their schedule this week. They will be at Stix N Stones in West Palm Beach, FL on January 24th - 25th of next year.
Complete Payouts:
1st Tommy Kennedy $675
2nd Claude Marrie $375
3rd Randy Epperson $300
4th Mike Williams $200
5th/6th Mario Cruz, Raul Alvarez $125
7th/8th John Ditoro, Ed Kiess $100

Photo courtesy of Diana Hoppe - Pool Pics by Hoppe