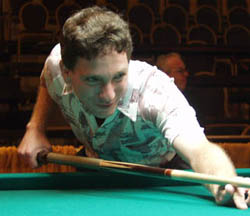 Tommy Kennedy avenged a 9-0 loss to Tony Sniper in the finals
Tommy 'The Gun' Kennedy navigated his way through a field of 35 players to win the South East Open 9-Ball Tour stop at Stix N Stones in West Palm Beach, FL.
Kennedy made his way to the match for the hot-seat where he ran into a red-hot Tony 'The Sniper' Crosby. Crosby was in dead stroke and didn't give Kennedy much of a chance to do anything as he rolled to a 9-0 victory.
Kennedy went to the one-loss side where Richard Broumpton was waiting. Broupton jumped out to a 6-2 lead, but Kennedy dug down and came back to win the match 9-7 to earn a rematch with Crosby in the finals.
The finals saw Kennedy take the early lead. Kennedy led 8-4, but Crosby started creeping back into the match. Kennedy got to the hill first at 12-9, but Crosby made one more charge and narrowed the gap to 12-11 before Kennedy finally won the case game and the match 13-11.
Kennedy pocketed $700 for first, while Crosby settled for $400. Broumpton and Tom 'The Crab' Karalis filled out the top four spots. Richard Broumpton's new wife Jennifer was the top female finisher and she pocketed $50. Brant Roberts and Preston Buckwold tied for top junior finisher and split $50 between them.
Tommy and Denise Kennedy with the SE Open Tour wanted to express their thanks to J Pechauer for helping support the tour. Tommy also expressed his thanks to Brant Roberts for helping run this tour stop.
The SE Open 9-Ball Tour will be at Bingham's Billiards in Pikeville, KY next weekend for their next event.
Complete Payouts:
1st Tommy Kennedy $700
2nd Tony Crosby $400
3rd Richard Broumpton $300
4th Tom Karalis $250
5th/6th Adam Wheeler, Claude Marrie $150
7th/8th Tom Wallace, Jerry Sotelo $110
Photo courtesy of Diana Hoppe - Pool Pics by Hoppe