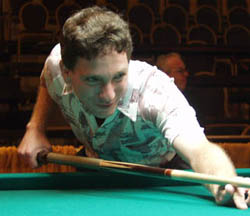 Tommy 'TK from FLA' Kennedy
Tommy Kennedy made it 'three in a row' this weekend with his win at the SE Open 9-Ball tour stop at Palm Beach Billiards in N. Palm Beach, FL.
Kennedy dropped a hill-hill match to Richard Broumpton early on Saturday, but came back through the one-loss side and was waiting for Broumpton when he lost to Bill Ferguson for the hot-seat. It was only fitting that Kennedy defeat Broumpton hill-hill on the one-loss side.
Kennedy scored a hard-fought 13-11 victory over Ferguson in the finals to score his third straight tournament win on the tour.
Kennedy won $600 for first, while Ferguson settled for $400 in second place prize money. Broumpton and Pat Howey filled out the final four place. Richard Broumpton's wife Jennifer Broumpton was the top female finisher and Willie Ruben was the top junior finisher. They each won $50.
Kennedy expresses special thanks to Palm Beach Billiards owner Mike Dolezal for helping put on a great event. The SE Open 9-Ball Tour will be at The Silver Cue in Lighthouse Point Florida next weekend.
The stop scheduled for January 17th and 18th at Capones in Springhill Florida has been postponed. Look for an announcement of that new date as soon as it is set up.
Photo courtesy of Diana Hoppe - Pool Pics by Hoppe