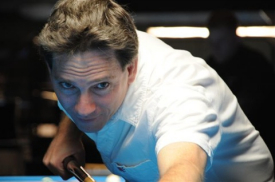 Tommy Kennedy
It was his first win of his own, new Southeast Open 9-Ball Tour season, but it was his third of the year. Tommy Kennedy had started the year with a January victory on the tour in Fort Myers, finished fifth later that same month, and won his second in March. In April, he'd fallen to Cliff Joyner in the finals of the last event of the overlapping-year season. He started the new season with a bang, going undefeated, in spite of a strong, one-loss side challenge by Justin Hall, who won eight in a row on the one-loss side for the right to meet him in the finals. The $1,500-added event drew 32 entrants to Veteran's Billiards in Port Charlotte, FL on Sunday, May 1.

With three behind him, Kennedy moved among the winners' side final four to face Danny Mosey, as Stephen Richmond squared off against Ed Cabrera. Kennedy got into the hot seat match with a 9-4 win over Mosey. Richmond joined him by defeating Cabrera 9-5. Kennedy dominated the hot seat match, allowing Richmond only a single rack.

Hall, in the meantime, who'd earned a bye in the event's opening round and been sent over by David Eyes in the second round, was working his way back. He reached his halfway point with a victory over Judd Strain, and followed it with a 7-3 victory over Obie Cirilo to pick up Cabrera, coming off the winners' side final four. Mosey drew Erica Park, who'd defeated Tim Witherspoon and Wayne Catledge 7-5 to reach him. A 7-2 win for Hall and a 7-4 victory for Park, put them into the quarterfinals, where Hall ended Park's bid 7-4.

Hall was picking up some speed, as Kennedy sat watching. He downed Richmond in the semifinals 7-3, and turned for a crack at the hot seat occupant. While praising Hall's trek to the finals, and his game play, Kennedy allowed him only four racks in an 11-4 victory that completed his undefeated day and third 2011 win on his tour.

Though Erica Park was the top female finisher in the event, Jessica Barnes earned $25 as the top female finisher, not in the money.