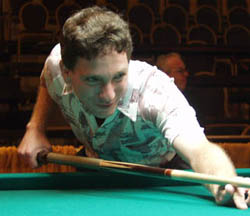 Tommy Kennedy
Tommy Kennedy, with the very able assistance of Tom Potter, brought his SE Open 9-Ball Tour into Park Ave Billiards in Orange Park, Fl this weekend where 34 players competed for the $1000 in added prize money.
Last weeks winner, Tommy Kennedy, found himself on the one-loss side early when he lost his second match of the event to local player Bobby Hicks. Hicks would go on to take 4th place in the tourney.
Meanwhile, on the winners side, David Grossman took the hot-seat with a 9-4 win over Craig Shaw. Shaw went to the one-loss side where he found a Tommy Kennedy who was on a roll. Kennedy had been winning match after match on the one-loss side and had just exacted his revenge on Hicks for sending him to the left side of the board.
Kennedy was not satisfied with just beating Hicks though, he had two more players in his sites and Shaw was the first one to fall 9-6 to set up the finals between Grossman and Kennedy.
The final match went back and forth with neither player able to build much of a lead. Kennedy held a small lead late in the match, but Grossman came back and took the lead at 10-9. Kennedy won the next game to tie the match at 10-10 with him breaking. The final game came down to a tough final three balls with Kennedy on the wrong side of the 7-ball. Kennedy made the 7-ball and went three rails around the table to get perfect shape on the 8-9 combo to end the match with an 11-10 victory.
Kennedy collected $700 for first, while Grossman settled for $470 in second place prize money. Shaw and Hicks filled out the top four players. Park Ave employee Christy Davis was the top female finisher while Logan Brown and Nick Applebee were tied for top junior finisher. Christy won $50, while the top juniors split the $50 bonus.
Kennedy has had a lot of success lately on the tour, due in part to the assistance of Tom Potter in running these events. With Potter quickly returning to the form he had 10-15 years ago, the players might want Potter to stay on that side of the tournament desk.
The SE Open Tour will be at Jo-Jo's Place in Davie, FL next weekend for their next event. The July 10th-11th stop at Strokers Billiards in Palm Harbor, FL has been cancelled.
Photo courtesy of Diana Hoppe - Pool Pics by Hoppe