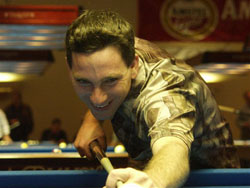 Tommy Kennedy
Tommy Kennedy and his SE Open 9-Ball Tour were at Cunningham's Pool & Dart's in Vero Beach, Fl this weekend with a field of 57 players including Buddy Hall, Kennedy, David Grossman, Adam Wheeler and Richard Broumpton.
Hall's status as favorite, took a bit of a hit as he was stunned by Adam Wheeler in the first round. Rising to the top of the heap were Kennedy and Grossman who faced off for the hot-seat. Kennedy won that match by the score of 9-5 and got comfortable waiting for an opponent in the finals.
On the one-loss side, Grossman found Hall waiting. Hall had made his way through the one-loss side and was looking for the shot at Kennedy in the finals. Hall had an 8-5 lead and was running out for a 9-6 win when he jarred a 9-ball and allowed Grossman back into the match. Grossman took advantage of the second chance and won that game and the next two for the 9-8 win.
The finals were all Kennedy as he cruised to an 11-3 win and first place.
Kennedy earned $800 for first, while Grossman pocketed $500 for second. Hall and tournament surprise Jeannie Seaver filled out the top four position. Seaver, a regular on the Florida based Ladies Spirit Tour, scored big wins over Willie Rubin and Richard Broumpton before finally losing to Buddy on the one-loss side.
The SE Open 9-Ball Tour will be at Bank Shot Billiards in Jacksonville, Fl on January 23rd for a one day event.
File photo courtesy of Diana Hoppe - Pool Pics By Hoppe