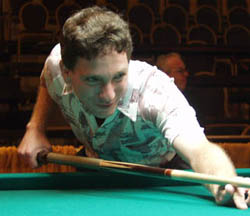 Tommy Kennedy
Tommy Kennedy went undefeated to win this weekends stop on the SE Open 9-Ball Tour at Jewels Billiards in Gainesville, Fl.
Kennedy made his way through the field of 26 players undefeated to take the hot-seat with a 9-6 win over Doug Young. Young didn't spend long on the left side of the board as he dispatched David Grossman to earn another shot at Kennedy in the extended final set.
The set for the hot-seat between Kennedy and Young was close, but the final match was all Kennedy as he rolled to a 11-4 victory.
Kennedy collected $700 for first place, while Young took home $500 for second. Grossman and Mike Donavon filled out the top four spots.
Jessica Barnes was the top finishing female and won $50 for the accomplishment. With no junior players in attendance, Kennedy awarded the top junior finisher award to TF Whittington.
Kennedy expressed his thanks to Tom Potter for helping to run the tournament. His help was immeasurable.
Complete Payouts:
1st Tommy Kennedy $700
2nd Doug Young $500
3rd David Grossman $350
4th Mike Donavon $205
5th/6th Dave Ross, Doug Arcadi $120